Welcome to the Whispering Creek Bed and Breakfast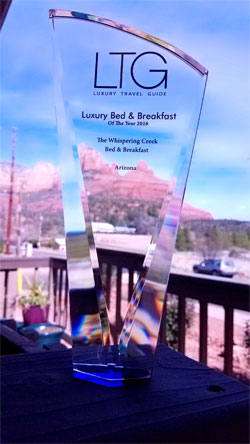 Nestled near the base of the majestic Red Rocks only 6 short blocks from Uptown Sedona, this award winning desert B&B provides our guests with a level of service and amenities that the sophisticated traveler expects. Five spacious non-smoking guest rooms, each with its own vibrant personality, and a host of modern amenities. Can't travel without man's best friend? No problem, all of our guest rooms are pet friendly and come with a Pet Welcome Kit and a soft bed for fido to relax on. After a restful night you will awaken to the aroma of Cheryl's homemade breakfast creations. Linger over breakfast in our bright airy dining room while overlooking the beautiful view of Wilson Mountain.
At the Whispering Creek Bed & Breakfast we welcome you to experience where adventure & relaxation meet in the same location. Spend the day sightseeing, shopping or experiencing some vortex energy and come home to our quiet residential setting. Quite often guests choose to leave their car parked and walk a short distance to Uptown. You can also take advantage of the close proximity to over 100 of the most beautiful hiking trails and state parks in the southwest. Bringing a mountain bike with you? We have rooms that have secured storage for your bike when you are not out experiencing the intense biking trails of Sedona.
Due to the current COVID-19 situation it is important to note that any reservation that is cancelled within the 14 day cancellation period will not be subject to a refund. We will however allow you to move your reservation to another date that may work better for you and apply your deposit to those dates. If your reservation is outside of the 14 day cancellation period we will honor the standard terms of cancellation. If you are an international traveller and have been banned from the US due to travel restrictions, under Force Majeure we will cancel your reservation without penalty. If you have any questions please contact us at 928-862-4006.