Welcome to the Whispering Creek Bed and Breakfast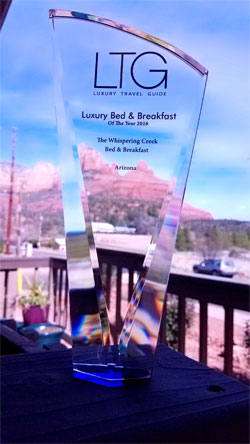 The Whispering Creek B&B offers you lodging and breathtaking views of the Sedona Red Rock Mountains right from your door. Owners Joe & Cheryl invite you to come and stay in one of their 4 well-appointed guest rooms. At our B&B, breathtaking views, historical relevance, and intimate privacy fuse with the relaxing and healing energy of Sedona.
Whether you dream of a fabulous Arizona Outdoor Adventure vacation, an intimate Sedona wedding, or a memorable weekend getaway, you'll enjoy your stay at The Whispering Creek Bed and Breakfast. We strive to offer all the modern-day comforts you'd expect, providing an enchanting alternative to a Sedona hotel. Wondering what to do while you are in Sedona? Just ask our Innkeeper (Barbara) or the owners (Joe & Cheryl). We are always happy to share some local secrets on great things to do.
Our breakfast service has changed recently due to coronavirus pandemic. Please refer to our COVID 19 page for specifics on our breakfast service.
A world of beauty and hospitality awaits you at the Whispering Creek Bed & Breakfast. Whether you're here for a romantic weekend or a winter getaway, our attention to detail and superior personal service ensure your Sedona vacation is memorable. BOOK DIRECT AND SAVE UP TO 10% on your stay.
Due to the current COVID-19 situation, it is important to note that any reservation that is canceled between the dates of 3/15/20 - 6/30/20 will be refunded at the time of cancellation if a deposit was secured. All reservations canceling past June 30th will revert to our normal cancellation policy which is any reservation canceling outside of 14 days prior to arrival will receive a full refund. Canceling inside of 14 days prior to arrival will forfeit the entire cost of the reservation.